MOST REV. FRANCISCO F. CLAVER, SJ, D.D.

Vicar
Apostolic of Bontoc-Lagawe
Sta. Rita Cathedral, Bontoc, 2616 Mt. Province
PERSONAL
Birth: January 20, 1929
Place of Birth: Bontoc, Mt. Province
Sacerdotal Ordination:
June 18, 1961 - Woodstock, MD, USA
Episcopal Ordination: August 22, 1969 - Baguio City
EDUCATION
* Litt. Humaniores
Baguio Seminary
* Mt. Province Sacred Heart Novitiate
Quezon City
* Philosophy
Berchman's College
* Cebu City Theology
Woodstock College
* Maryland, USA Anthropology
Ateneo de Manila University of Colorado


MINISTRY
* 1969-1984- Bishop of Malaybalay, Bukidnon
* 1973-1979- Member, Papal Commission for Non-Believers, Rome
* 1974-1978- Chairman, Episcopal Commission for Non-Believers, Manila
* 1983- Chairman, Episcopal Commission on Tribal Filipinos
* 1984
* Associate Member, Institute on
Church & Social Issues
* Loyola School of Theology, Quezon City
* Executive Secretary, Social Apostolate of Jesuits in East Asia/Oceania
========================================
The Vicariate of Bontoc-Lagawe, the Society of Jesuits, and Saint Vincent's
School mourns for the passing away of our Bishop Emeritus, Bp.
Francisco Claver ... he passed away 2:41 am today ... his body lies in
state at the Jesuits Homes in Manila ...
we pray for the eternal repose of his soul...
THANK YOU FOR THE MEMORIES
BISHOP, WE'LL MISS YOU!!!



Posts

: 67


Reputation

: 1


Join date

: 2009-08-03


Age

: 29


Location

: Baguio City



From the InteractiveCordillera Team we are sending our Deepest Condolences.We all pray for the eternal repose of his soul..

What moves through us is a silence, a quiet sadness, a longing for one
more day, one more word, one more touch, we may not understand why you
left this earth so soon, or why you left before we were ready to say
good-bye, but little by little, we begin to remember not just that you
died, but that you lived. And that your life gave us memories too
beautiful to forget
Web Developer





Posts

: 275


Reputation

: 1


Join date

: 2009-07-28


Location

: La Trinidad Benguet



The SVS Alumni Hong Kong is in one with the bereaved family, the Bontoc-Lagawe Vicariate. We sincerely send our condolence and prayers. Apo Bishop was a true Igorot in the truest sense, a true priest and an innovative humble servant to his flock.
Thank you, Apo, for your great wisdoms you shared. We will missed you a lot.
As you will be with the Father, we pray that you will continue guiding us.



Posts

: 35


Reputation

: 1


Join date

: 2009-08-22


Age

: 60


Location

: Shatin, Hong Kong



WE remember Bishop Ikoy as the meek and humble sheep in the face of priestly service and as servant of God. His very nice book ¨The Stone Will Cry Out¨ speaks about his works and dedicated service not only to God but to his people. He is regarded a remarkable man because of his true words and actions. He is a person to emulate.

Bishop Ikoy, You will live in the hearts of every men whom you have touched. Nan layad mi mifuweg ken sik-a...
Global Administrator





Posts

: 320


Reputation

: 3


Join date

: 2009-08-02


Location

: Finland



Bishop Francisco F. Claver
, S.J. †
DeceasedVicar Apostolic Emeritus of Bontoc-LagaweEvents
DateAgeEventTitle
20 Jan 1929
Born
Bontoc
18 Jun 1961
32.4
Ordained Priest
Priest of Society of Jesus
18 Jun 1969
40.4
Appointed
Prelate of Malaybalay, Philippines
18 Jun 1969
40.4
Appointed
Titular Bishop of Nationa
22 Aug 1969
40.6
Ordained Bishop
Titular Bishop of Nationa
15 Nov 1982
53.8
Appointed
Bishop of Malaybalay, Philippines
14 Sep 1984
55.7
Resigned
Bishop of Malaybalay, Philippines
2 Nov 1995
66.8
Appointed
Vicar Apostolic of Bontoc-Lagawe, Philippines
15 Apr 2004
75.2
Retired
Vicar Apostolic of Bontoc-Lagawe, Philippines
1 Jul 2010
81.4
Died
Vicar Apostolic Emeritus of Bontoc-Lagawe, Philippines
Most Reverend Francisco Claver, S.J., you will always be remembered.
Junior Administrator




Posts

: 101


Reputation

: 0


Join date

: 2010-02-18


Location

: Philippines



First Igorot bishop, martial law foe dies; 81


By Kristine L. Alave, Vincent
Cabreza, Inquirer Northern Luzon
Philippine Daily Inquirer
First Posted 05:19:00 07/02/2010




MANILA, Philippines — Francisco Claver, the first Igorot bishop whose
campaign for social justice during the martial law years helped frame
the Philippine Catholic Church's policy of active nonviolence that
inspired the peaceful People Power Revolution of 1986, died yesterday.
He was 81.
Fr. William Abbot of the Philippine Province of the Society of Jesus
said Claver succumbed to pulmonary embolism, or blocked arteries, at
2:45 a.m. at the intensive care unit of Cardinal Santos Memorial Medical
Center. He had undergone a heart bypass a month earlier, relatives
said.
Cotabato Archbishop Orlando B. Quevedo said of Claver: "Filipino
prophet without peer, truest priest, innovative humble shepherd, a very
dear friend. He is with Jesus whom he proclaimed with eloquent words,
spoken and written, in all arena of human life. Who can take his place?
My tears flow."
The pipe-smoking Claver was one of the first bishops to speak out
against the martial law regime of Ferdinand Marcos, ardently supporting
the clamor of the Kalinga tribal people against the World Bank-funded
Chico hydroelectric power project in the Cordillera region in the
mid-1970s.
The tribal rising amid fears that the project would lead to
widespread displacement and desecration of native burial grounds led to
the murder of Makliing Dulag, a Kalinga leader and government road
worker, allegedly by Philippine Army troops in 1980.
The project that tribesmen said meant sacrifices for neglected
natives for the benefit of Christian lowlanders was scrapped in 1987.
Colleagues said Claver used to write the pastoral letters and
statements of the Catholic Bishops' Conference of the Philippines
(CBCP).
Creative nonviolence
As head of the Institute on Church and Social Issues (ICSI), Claver
drafted the bishops' statement denouncing the 1986 snap elections and
calling on the people to find "creative" and "nonviolent" means to
dismantle the dictatorship he had criticized from the beginning.
The ICSI said on its website that the statement was the culmination
of Claver's activist work and helped precipitate the People Power
Revolution that ousted Marcos weeks after the "snap" elections.
Claver died a day after President Benigno Aquino III, son of the
woman who received the Church support and inspired the Edsa I
revolution, took his oath of office as the country's 15th president.
Bishop Cisco
Known as Bishop Cisco, Claver was born in Bontoc, Mountain Province,
on Jan. 20, 1929. He became a Jesuit priest in 1961 at the age of 32. He
received his bachelor's and licentiate degrees in Sacred Theology from
Woodstock College in Maryland and obtained his doctorate degree in
Anthropology from the University of Colorado.
He was appointed bishop of Malaybalay in Bukidnon during the Marcos
regime and served as chair of the Episcopal Commission for Indigenous
Peoples and the Commission for Justice and Peace.
He also wrote in The Communicator, a Jesuit publication shut down by
the martial law regime for printing articles critical of the government.
His last post was Vicar Apostolic of Bontoc-Lagawe, his hometown.
While in retirement, Claver wrote for CBCP Monitor, CBCP's official
newspaper.
Vote with conscience
Even in sickness, Claver continued to preach about social justice.
His last column for the Monitor, which was published a month before the
May 10 elections, urged Filipinos to vote with their conscience.
At the same time, he chided some bishops for publicly supporting
candidates in the elections, saying this clouded the will of the people.
"In 1986, the bishops judged that the snap election was fraudulent
and condemned it and Marcos' continued rule. But we also made sure to
call on everyone to discern and judge the polls on their own. We told
people that if they agreed with our judgment, then they should pray and
act together to correct the wrong," Claver wrote.
Church officials should be prudent during elections, he said,
stressing that the task of the prelates was to educate the voters.
"We must be mindful of our influence and make sure we do not stifle
people's conscience, but that we educate it," he said. "For when the
people start acting in their own way and at their level against the many
corrupt practices of Philippine politics, that is when the real social
change takes place with the corresponding change of the values of the
people."
Crossword puzzles
In meetings, the late prelate was often seen with his pipe, a pencil,
and a crossword puzzle, said former CBCP president and Archbishop
Emeritus Oscar Cruz. "He loved crosswords." But despite these
distractions, he would always raise his hands and ask difficult
questions, Cruz said.
Cruz said Claver had a sharp, crackling mind and a big heart whose
life work centered on social justice. He had zero tolerance for
dishonesty and corruption. Reports of government thievery would often
sent him "fuming mad," Cruz said.
"When I speak of the late Bishop Claver, I speak with my heart in my
hands. I mean sincerely what I say. This man was not only very learned
especially in the matters of theology and sociology but on questions of
humanities," Cruz said.
"Together with certain Jesuits, he was very aware of the social
doctrines of the Church. Human life, human dignity, and human rights
were his forte."
Claver's remains will lie in state at the Loyola House of Studies at
the Ateneo de Manila University. The body will be brought to Bontoc on
Saturday and will return to Manila on Tuesday, Abbot said. The funeral
is scheduled on Wednesday afternoon.



Posts

: 67


Reputation

: 1


Join date

: 2009-08-03


Age

: 29


Location

: Baguio City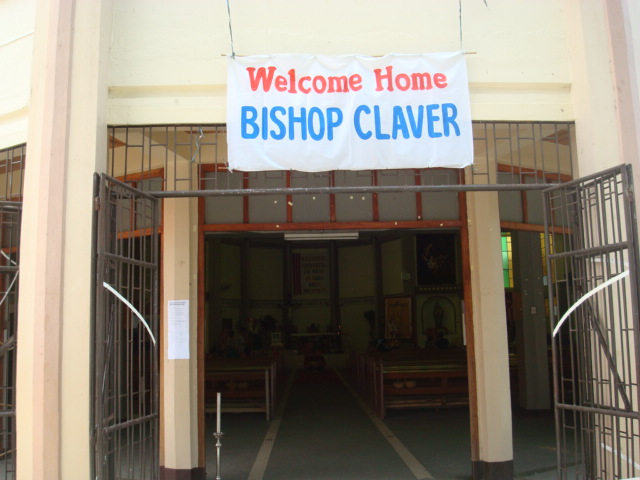 (written by: Ms. Florence T. Antonioread during the welcome mass of Bp.Cisco at the Sta. Rita Cathedral, Bontoc, Mt. Province, on July 4,2010)Dear Bishop Ekoy,
In the bigger community of the Philippine Church, you were Bishop Cisco, but to us, people of Bontoc, you were our Bishop Ekoy. Although born in Bontoc, of pure Bontoc and Tocucan blood, you were educated mostly abroad and first sereved as Bishop of Bukidnon and later, in the Archdiocese of Manila. You came to assume the post of Vicar Apostolic of the baby Vicariate of Bontoc-Lafawe when it was orphaned at the age of three. Those were difficult times, the Vicariate had no home and so you willingly stayed at the Bontoc Mission Rectory. At the onset, you earnestly embarked on urging us to go the way of BEC as our new way of being church. You patiently explained and expounded, hammered and nailed on our consciousness that BEC is the way to live our faith. We the lay know very well that your episcopate of nine years was not smoothe sailing all the time. We in Bontoc shared with you some difficult times in our life as church, but you, Bishop Ekoy, ever patient, ever humble and kind, continued to guide us through our life of faith. Your homilies, full of wisdom and your kind presence made us think and look into our deeper selces for answers to the many questions in life that plagued us. When the going was rough, your exhortations on 'fidelity' and your life examples kept inspiring us to move on. We do have a lot of reasons to be grateful to you. You were a holy man and a prophet, a Jesuit, a Bishop and an Igorot! We would never be able to thank you enough nor write about all you did as a faightdul Shepherd to your flock. Your no-nonsense way of dealing with us, young and old, was a lesson well-learned.
Bishop Ekoy, as we move on in our journey of faith, we who are left behind will continue to be grateful to you. We will continue to remember you, and as we remember, hopefully, we will re-root our faith in God so that in the process, we will revitalize this same faith as we move on building Basic Ecclessial Communities of love, justice and peace. When we meet for
'tongtongan'
and talk about our faith experiences in our BEC, we will be thinking of you; when we do enculturation, we will think of you and your insights; when we sing the creed in Bontoc, (you did the final editing), we will think of you and thank you.
We will always be proud of you of our very own Igorot Bishop who made a wave in the national scene, ably promoting human rights and justice, the rights of indigenous peoples, and actively fighting against graft and corruption in government. When you look down on earth from your cathedral on high, we hope you can smile a little to see the little steps we have to do but rest assured, Bishop, we will do and give our best. We will draw inspiration from your life and examples, and surely, we will need your prayers. Farewell, Bishop Ekoy for now. Don't forget to look fown with love upon us when you will be happily doing 'tongtongan' in the perfect BEC in heaven. Welcome home, Bishop Ekoy, and because we love you, we can say, O faithful Shepherd, go...rest in God's holy mountain.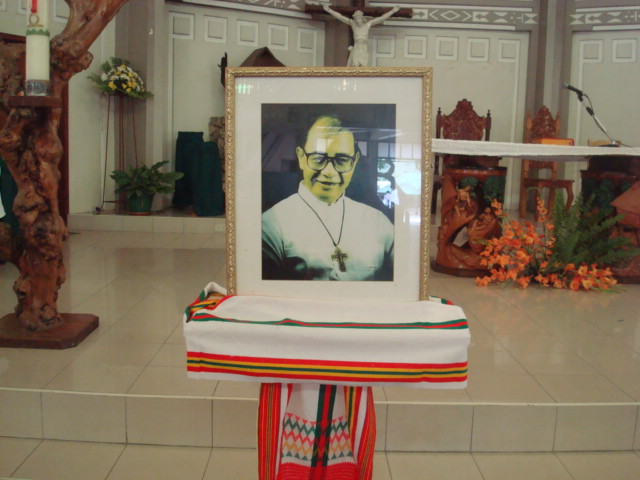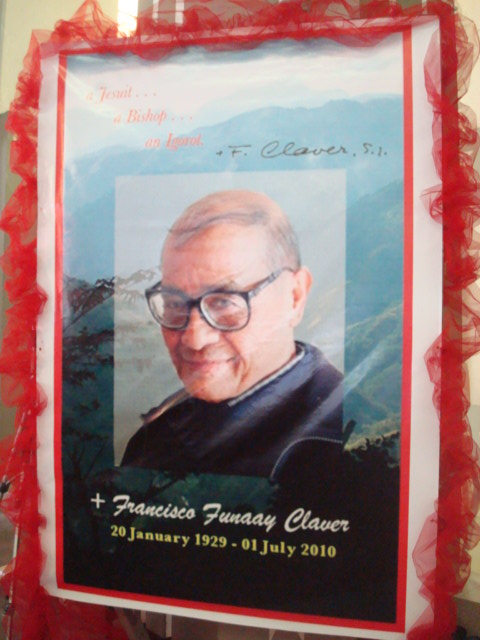 Global Administrator





Posts

: 23


Reputation

: 0


Join date

: 2009-07-30


Age

: 34


Location

: Apostolic Vicariate of Bontoc-Lagawe




---
Permissions in this forum:
You
cannot
reply to topics in this forum